The Last of the Firedrakes 
by Farah Oomerbhoy
(Pub: 

Wise Ink Creative Publishing, 2015)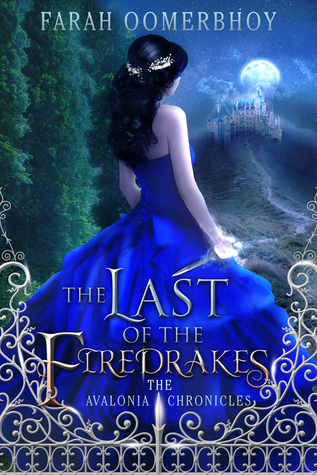 The Last of the Firedrakes by Farah Oomerbhoy is a rollicking adventure with something for everyone. 
The Last of the Firedrakes follows the tale of Aurora Darlington.  Aurora is an orphan whose adoptive parents are dead. She has been in the care of their relatives – her not so loving aunt and uncle.  Aurora is a pariah at school and at home.  A sudden family visit to the country estate of Lord Oblek, sees Aurora betrayed by her aunt and uncle.  Here is where the story really begins – Aurora is transported to the land of Avalonia.  Once in Avalonia,  Aurora's life is under threat by an evil queen – Morgana.  Aurora slowly discovers her heritage and her powers in a series of adventures involving fairies, magic, a pegasus, sword fights, a dashing hero/love interest.
None of what I've described sounds unusual in this type of novel – and it's not. Oomerbhoy has taken a tried and true formula and executed it well. Initially I wished some of her character names had been different – they are unoriginal
 and a bit twee. However, I then wondered if her usage of the names Aurora and Morgana (and Avalonia – one can't help thinking of Avalon) was a tribute to stories of the past.
Oomerbhoy's story allows for a great deal of emotional growth in regard Aurora's character -which in light of the target audience is a particularly good thing.  Initially I found Aurora to be a naïve protagonist and a passive individual with victim almost stamped on her forehead.  At this point she was in dire need of saving – something which made me particularly irritated with her from time to time.  Throughout the novel she, fortunately, gains confidence in her own abilities, starts to take an active role in shaping her own destiny and becomes a more interesting heroine. 
What strikes me about this book is that while it has many elements that suit a YA audience, I think it could easily suit Tween readers as well (9-12yo). There is nothing overly difficult in the language of the text and there is certainly nothing inappropriate for that age group.
While there were no surprises in the narrative, I wound up enjoying The Last of The Firedrakes.  Oomerbhoy writes well – the story is carefully constructed and the pacing excellent. It is a fabulous escape into a well-constructed fantasy world and leaves you wanting to read the next book.  There is nothing to complain about with this story and it hits all the marks for its intended audience.
I'll will be buying the next in the series.